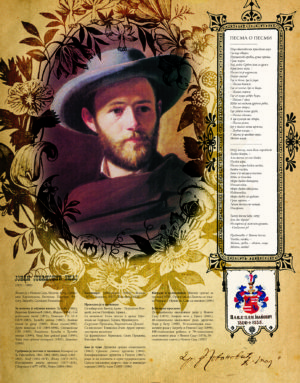 Jovan Jovanovic Zmaj: 2005
Exhibition design:
Jana Nikolić
Commemorating the centenary of Zmaj's death
The exhibition was organized in the Gallery of the Belgrade City Library in 2004 on the occasion of the centenary of the death of Jovan Jovanović Zmaj. It is made in digital printing.
The life and work of this great doctor, poet, playwright, satirist, translator, founder of the Serbian Literary Cooperative, editor of seven newspapers and magazines and member of the Serbian Royal Academy are presented on 25 posters. Posters contain documents, photographs, scanned magazines, manuscripts and old and rare editions of Zmaj's books and magazines that he published and edited.
The material for the exhibition was taken from the Manuscript Department of Matica Srpska, SASA Archives, Museum of the City of Novi Sad, Local History Department and Periodicals department of the Belgrade City Library and the Manuscript Department of the National Library of Serbia.
The exhibition was hosted in several libraries in Serbia, in the Serbian Gymnasium in Budapest, the Department of Slavonic Studies in Vienna and the Zmaj Children Games in Novi Sad. It was also presented to students of Serbian schools in Canada: Toronto, Kitchener, and Vancouver.
Through the international exchange of the National Library of Serbia, materials from the exhibition (Catalogue and DVD) were requested by many libraries and Slavic departments worldwide: from Seoul, through America, Russia, and Paris, to neighbouring countries. This way, through photography and documentary material, the story of Zmaj and Serbian romanticism travelled around the world.
"One hundred years have passed since Jovan Jovanović Zmaj (November 24, 1833, in Novi Sad – June 14, 1904) closed his eyes in Sremska Kamenica , where he still rests today. Even in his young days, the brightest star in the sky of Serbian poetry, he experienced that he was classified as a second-rate poet without emotion, inspiration and skill during the last decade of his life. Rejected by his old political friends, tormented by the voluminous book of his poetic brother Laza Kostić, who in a bright allegorical leap, how a dragon swallowed a nightingale, compares his lyric poems with the most beautiful creations of world poetry, and at the same time challenges his sincerity, honour, morality and social engagement in satirical and political poems… From the poet's youth to recent years of life, all these streams were somehow parallel, united and fused in the depths: large ranges of sensibility and sensitivity, incomparable inventiveness and linguistic creativity, openness for the essence that was once a thin lyrical picture, another time a sharp cut. One time an unparalleled loveliness, the other time a mischievous leap taken from the Bećarac… We should not forget: for Zmaj, song is sacred… In the name of such high-placed, heavenly, timeless values, Zmaj looked at his contemporaries, and Serbian circumstances, and poetry, measuring not with a temporary, earthly, but divine measure for better times and a better generation."
Prof. Dr Dušan Ivanić, excerpt from the preface of the exhibition catalogue
"Let's imagine our history, culture, literature, our lives without Zmaj. How much we would miss Zmaj in everything is the true measure of his greatness. Zmaj sang; he did not write. And singing is more natural and immediate than writing. With his singing and chanting, Zmaj laid bare our stubbornness, softened our senses, and freed us from twitches and shame. With Zmaj and after Zmaj, it became easier and more beautiful to be human and to live."

Duško Radović, a quote featured on one of the exhibition's posters.
The exhibition can be viewed here.
The catalogue can be viewed here.