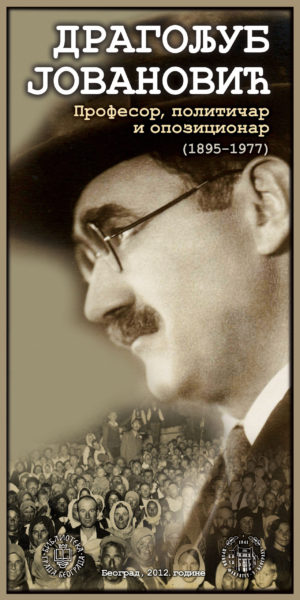 Dragoljub Jovanović: Professor, politician, oppositionist
Exhibition set up in 2012, dedicated to the life and work of Dragoljub Jovanović
The exhibition "Dragoljub Jovanović – professor, politician and oppositionist" was designed to highlight the life and work of one of the greatest intellectuals that the Serbian people had.
The exhibition was organized in an effort to identify and review those phenomena and distinct periods in Jovanović's life and work, which established him as a person who played a notable role in the social movements and political life of Serbia in the first half of the 20th century.
The exhibition's primary goal is to encourage a more serious reception and study of the life and works of Dragoljub Jovanović. Since he was cruelly persecuted from the public and political life of Serbia and spent more than a decade in prison, very little is known about him and his work.
On 40 posters made in digital printing, by using available material from the SASA Archives, the National Library of Serbia, the Faculty of Law of the University of Belgrade and mostly material from the private archives of Dragoljub Jovanović's family, the following topics are presented:
1) Pirot and schooling in Belgrade and the war (1895 – 1913)
2) World War I and studies in Paris (1914 – 1923)
3) University career and public activity (1924 – 1930)
4) Political involvement, expulsions and imprisonment (1931 – 1940)
5) World War II and the fight against the communist dictatorship (1941 – 1946)
6) Conviction, expulsion and imprisonment (1947 – 1955)
7) Political isolation and investigative-journalistic work (1956 – 1977)
8) Publication of the works and rehabilitation of Dragoljub Jovanović (1983 – 2010)
In particular, numerous works and manuscripts, rich political activities and engagements, as well as part of Dragoljub Jovanović's private and public correspondence, are presented.
The exhibition can be viewed here.