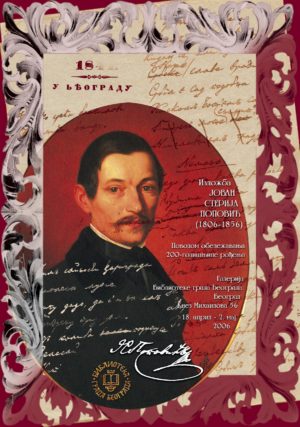 Jovan Sterija Popović: 2006
Exhibition design:
Snezana Rajković
Exhibition to mark the 200th anniversary of Sterija's birth
ALWAYS SPEAK THE TRUTH AND BE HONEST TO YOURSELF – that was Sterija's life and work motto. The exhibition, organized by the Library on the occasion of the two hundredth anniversary of Sterija's birth, mostly covers the writer's life related to Belgrade from 1842 to 1848, which was marked by exceptional activities in the field of education and culture. In that relatively short period of his stay in Serbia, the already famous and recognized comedy writer Sterija worked devotedly and with the most incredible dedication as a professor of natural law and rhetoric at the Lyceum. As the head of the Education Department, he proposed and participated in adopting the law on the National Theater, the first law on education in Serbia, the opening of the Theater in Đumruk and later the Theater "Kod Jelena". Sterija was one of the initiators and founders of the Belgrade Reading Room and the Society of Serbian Letters. He personally wrote the project of the Serbian Academy of Sciences, the Constitution of the Society, and together with Dimitrije Isailović, sketched the Society's first seal. All these activities of Sterija, as well as numerous photographs and posters of theatre performances ("Zla žena", "Rodoljupci", Pokondirena tikva", "Laža i paralaža", etc.), are given on the exhibition posters. Several posters present rich manuscript material: "Skenderbeg", "Rodoljupci", "Pokondirena tikva", "Miloš Obilić", "Laža i paralaža"
During the founding of the modern Serbian state, when the foundations of important cultural and educational institutions were laid, Steria left a visible mark.
Materials are taken from: Archives of Serbia: Archives of the State Council, Archives of the Education Council, Manuscript Department of Matica Srpska, holdings of the SASA Archives; holdings of the National Library of Serbia, Museum of Theatrical Arts of Serbia, Belgrade City Library.
"Dear Đoko, you will be surprised by this letter when you read it. My minister Aleksa Janković resigned because he shouted at us Swabians. Tenka was appointed in his place. This change of ministers is annoying, and I am reluctant to serve with the new one, so I resigned. Now, thank God, I'm free. The prince hasn't confirmed it yet, and he went to Kragujevac today. I'll stay here until Easter, until my book is finished, and on Holy Sunday, I am there. Just prepare an apartment. So far, it's been quiet here, but we'll see if this political cholera will cross the Sava and the Danube.
Now stay healthy and in peace, that's what your brother Joca wishes you."
March 11, 1848
Steria's letter to brother Đorđe
The exhibition can be viewed here.
The catalogue can be viewed here.